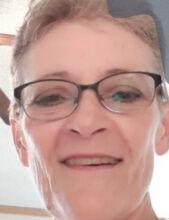 Visitation for Rhonda Myers, 61, of Pryor, will be held on Monday, October 11 from 6-8 PM at the funeral home. Interment will be held at a later date at Ft. Gibson National Cemetery. Cremation arrangements are under the care and direction of Stephens-Key Funeral and Cremation Care in Pryor. 
Rhonda Shannon Myers was born on March 3, 1960 in Oxnard, California to Richmond "Floyd" and Oleta (Wyche) Barnes. She passed away on October 6, 2021 at her home in Pryor, Oklahoma. 

Rhonda grew up and attended school all over the United States since her dad was in the Air Force; she graduated from high school in Tucson, Arizona. She married Dennis Ray Myers on January 8, 1979. They lived in various places over the years, including, Arizona, Nevada and Oregon then eventually moved to Pryor where they have lived for the last several years. In her early life, she worked as a pit clerk at casinos. In her spare time she loved to go fishing. She also made baby blankets for young, needy moms, she took great pride in making the blankets and they were made with love. She also enjoyed spending time with her kids and grandkids. 

She attended Blue Springs Church in Salina when she was able, but hadn't been able to attend in quite some time.
 
She is survived by her husband, Dennis, of the home; three children, Jamie Myers of Locust Grove, Sandra Evjen and husband Jerry of Lincoln City, Oregon and Kevin Myers of Fredericksburg, Texas; ten grandchildren and 3 great grandchildren; four siblings, Suzanne Payton and husband Bob of Georgia, Randall Barnes and wife Patty of Colorado, Reatha Gabrielson and husband Carl of Oregon and Dawn Chiago and husband Mark of Arizona as well as numerous nieces, nephews and other extended family and friends. 

She was preceded in death by her parents. 
To send flowers to the family

of Rhonda Myers

, please visit Tribute Store.