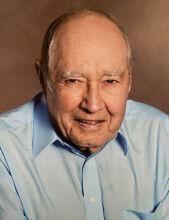 Funeral services for Kenneth Scheffel are private, immediate family only, but anyone is welcome to come by to sign his book and view him on Thursday and Friday, Oct. 14-15 from 9am-5pm at the funeral home. 
Kenneth Levi Scheffel, 89, of Pryor, Oklahoma, was welcomed to his heavenly home October 7, 2021, at 3:27 a.m. when his heart suddenly stopped beating. He was born January 16, 1932, to the late Jake and Lizzie Scheffel. His beloved wife, Chris L. (Miller) Scheffel, to whom he was married for over sixty-seven years, survives. They were married August 23, 1954, and were blessed with four children. 
Ken, a farmer and rancher from 1954 until his health began to decline, was involved in many other activities in his church and community. The young people he and his wife sponsored remember the good times of ping pong, volley ball and singing programs. He became an airplane pilot in 1971 and later received his commercial pilot's license. Under his leadership, the Pryor Church Softball League was built. Later, in 1981, the City of Pryor honored Ken by naming the park KENNETH SCHEFFEL SOFTBALL COMPLEX. He was Pryor's Citizen of the Year in 1985 and inducted into the Tulsa Hall of Honor in 1992. 
He served on all but two of Zion Mennonite Church's building committee. Ken was one of Zion's Prison Ministry coordinators and Zion's church treasurer for many years. When there was church work planned, Ken was a faithful worker until in his last few years when he was unable to help. 
He loved sports, traveling, reading and telling a good story. He read his Bible through many times during his 89 years. Although he accomplished many things during his lifetime, his most important one, he was sure, was raising his four children to know and serve the Lord. 
He is survived by three children, Sharon and husband, Roger Hazen of Vassar, Michigan, Robin and husband, Steve Haff of Pryor, Oklahoma and Keith and wife, Shannon of Rosedale, Ohio, nine grandchildren and nine great-grandchildren. He was preceded in death by his son, Dean, parents, Jake and Lizzie Scheffel, two sisters, Edna and Irene and one brother, Everette.
To send flowers to the family

of Kenneth Scheffel

, please visit Tribute Store.