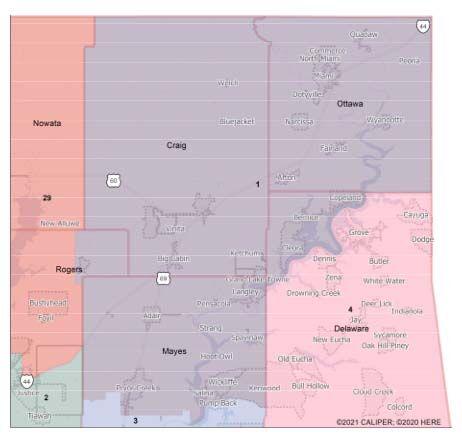 With redistricting completed and the next legislative session right around the corner, I thought it would be a good time to address the upcoming changes in our district and why those changes have been made.
Every 10 years after completion of the U.S. Census, Senate and House districts as well as our five congressional districts are redrawn. This is constitutionally required to keep population counts in these districts as even as possible. Based on the 5% population increase Oklahoma saw, each Senate district will now include nearly 82,500 citizens, up from the current goal of almost
78,200 Oklahomans. This required changes to district boundaries, including Senate District 1.
The two biggest changes in our district are the loss of Jay and Eucha in Delaware County and the addition of Pryor in Mayes County and Chelsea in Rogers County. I still represent all of Craig and Ottawa Counties.
This redistricting process was the most open and transparent in the history of the state and we managed to make the new districts more compact than the current legislative and congressional districts. Also, 87% of Oklahomans will remain in their same congressional district, so most Oklahomans will see no changes in their federal representation.
Over the last five-plus years, I have developed some good relationships with many in the portions of Delaware County who will be represented by the new District 4 senator after the election in November. Please be assured that I will continue to do my best to serve everyone in my district until that time, and I will do whatever I can to assist your new Senator thereafter.
For those who will be new constituents in November, it is my intention to begin getting to know you and your communities between now and then. My goal is to serve my constituents, my district, our region and Oklahoma to the best of my abilities.
Feel free to contact my office with any questions or concerns you have about the redistricting process.
With redistricting behind us we are moving toward the Second Session of the 58th Legislature, which begins on Feb. 7. With that in mind, I have been very busy this interim, attending interim studies, researching legislation and filing bills. The deadline for bill filing is Thursday, January 20.
This session I will again be serving on the General Government and Transportation, Business, Commerce and Tourism, Public Safety, and Transportation committees, and am anxious to see what issues we'll be addressing in each of these.
Thank you for allowing me to serve as your state Senator. If there's something I can help you with, please call my office at 405-521-5561 or email me at Micheal.Bergstrom@oksenate.gov.