PRYOR, Oklahoma (The PiP) - This article will provide an overview and understanding of Proposition 2 of the 2019 Bond. We will seek to define the purpose, possibilities, and how proceeds can be used to benefit Pryor's Mainstreet Corridor. 
On March 5, 2019, Pryor citizens passed two propositions. (Original ballot) Proposition 1 allowed for .45% of an existing .50% sales tax proceeds to be made available for certain capital expenditures. These expenditures included a police and firefighting facility and other capital expenditures as determined by the Mayor and City Council. The second proposition authorized a modification to Ordinance No. 2011-1. Proposition 2 allowed for .05% of the existing .50% sales tax to be made available to "create new jobs and retain current jobs in the Main Street Corridor."
In October of 2019, Pryor Mainstreet Organization received a Placemaking grant from The Oklahoma Municipal League and OU Institute for Quality Communities (see original story). The steps needed to apply for the grant included an overview of project partners, project support, site, need, funding/resources, and impact. Pryor Mainstreet Organization received the grant based on a previous assessment of Pryor's downtown conducted by Ron Drake Consulting in 2014. In 2014, Drake suggested that simple designs and proper planning on side streets and alleys with careful consideration for lighting, signage, and walkways could greatly improve the area. He also said that hopefully, Pryor could convince ODOT to allow some of the same changes to be made on Graham Avenue based on the success of the side street improvements.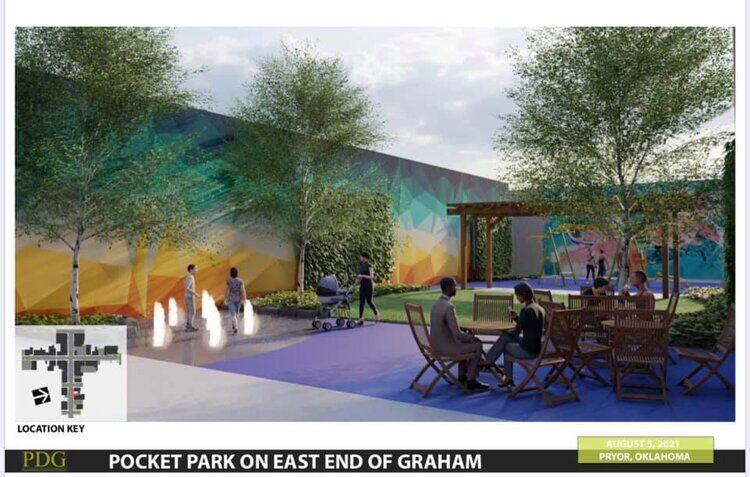 Included in the Placemaking Grant, OU's Institute for Quality Communities committed to help with design and proper planning. It was implied that the streetscape plan would help in future grant applications thus meeting the goals of Pryor's Comprehensive Plan. Specifically, section 6 of Pryor's Comprehensive Plan called Downtown & Corridors, which states that one of the goals is to "enhance Downtown Pryor's public realm through streetscape, infrastructure and public space improvements." At that time, IQC promised to help Pryor do just that.
On February 16, 2021, Pryor's City Council approved $39,500 for the employment of Planning Design Group to create design plans for the downtown corridor development. The council recommended that the $39,500 come out of the Main Street Bond funds Planning and Design Account. This account receives funds from Proposition 2. At the end of the 2020-21 fiscal year, the Main Street Bond Fund had just over $181,000.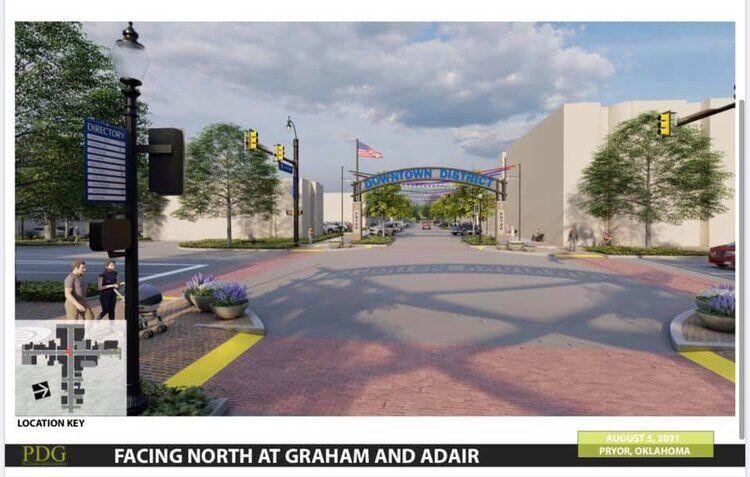 This past Thursday, Pryor Main Street Organization presented a preliminary design for the Main Street Corridor. The design shown is a fantastic improvement for the area. Surprisingly, much of the same suggestions given by Drake in 2014 are suggested for the area. PDG (Planning Design Group) proposed better lighting, better walkability, and better signage. All these additions come at a cost which may be why the improvements did not come to fruition in 2014 and why Proposition 2 was added to the bond language.  During the presentation no numbers were given regarding the cost to complete. PDG only proposed applying for a TAP (Transportation Alternatives Program) grant. The TAP grant is a Federal grant that divides funds between states. Each state handles these funds differently. Oklahoma divides towns into three population categories. Depending on the population category a city falls into determines how much money can be applied for. The last session of TAP grants divided towns into small towns (less than 5,000), medium towns (5,000 to 20,000) and large towns (greater than 20,000). We could not find the funding breakdown for the 2022 grants. PDG did say Pryor could apply for either a $400,000 or a $1,000,000 grant depending on the population breakdown this year. These grants are 80/20, meaning the city of Pryor would have to match the grant with 20% of the total amount.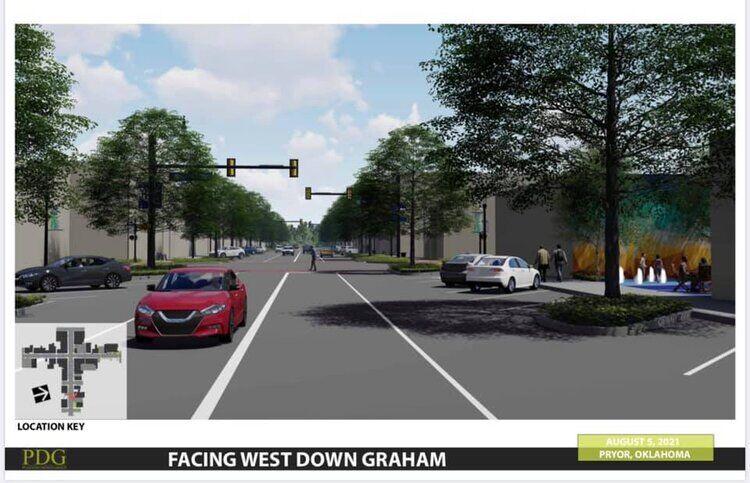 Some in attendance at last Thursday's meeting expressed frustration to see that a large portion of the project is focused on Adair Street rather than Graham Avenue. PDG explained that Graham Avenue is a state highway and there are limitations to what ODOT will approve. The Drake study expressed these same limitations. However, PDG pointed out that Graham Avenue is not left out. You can see this by the inclusion of trees, planters, bump-outs (allowing for safer street crossings), signage, and crosswalks along Graham Avenue. 
On Monday, Pryor's Economic Development Trust Authority met. The main agenda item was an open floor discussion for property and business owners within the Main Street Corridor. Pryor Main Street presented the PDG proposal to those in attendance. Afterward, the floor was open for discussion, below are just a few of the recommendations from the property and business owners in attendance.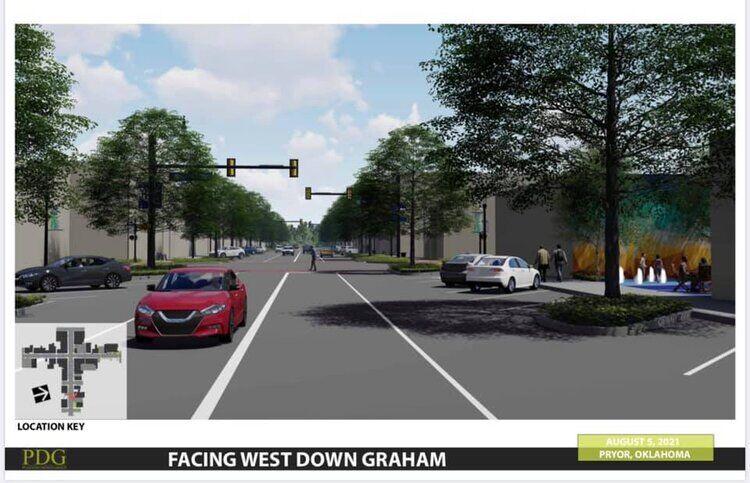 The need for better parking.

The need to have corporate vehicles off of Main Street (having business owners and employees park in the alleys.)

The need to have existing property owners maintain their buildings.

The need to make storefronts more presentable.

The need for a partnership between the private sector and the government.

The need for City of Pryor to enforce codes.
Gene Dillard, a member of the EDTA, repeated several times that they can do nothing without money. However, the city has already proportioned sales tax for this cause. Based on the current growth rate of monies from Proposition 2 the forecast is roughly $90,000 per year over the next 15 years. 
The meeting also begged the question, "Have all the right people/organizations been involved in the planning?" It was noted that Pryor's Chamber of Commerce Director, Barbara Hawkins, gave the appearance of only seeing these plans for the first time. And, there were only a handful of property owners and even fewer business owners in attendance. A project of this magnitude takes input and commitment from all affected parties. 
Pryor's EDTA has been given a tremendous task with little guidance. They are pleading for input about how to accomplish "making Pryor a town our school kids are proud of," as stated by several in attendance. As citizens, community groups, and businesses in our town, it would behoove all those who are willing to get involved. As you can see from Pryor's Main Street history, this issue is not new. If we do not work together now to improve our town, the pattern will continue… wasted time, wasted studies, and ultimately wasted taxpayer money.