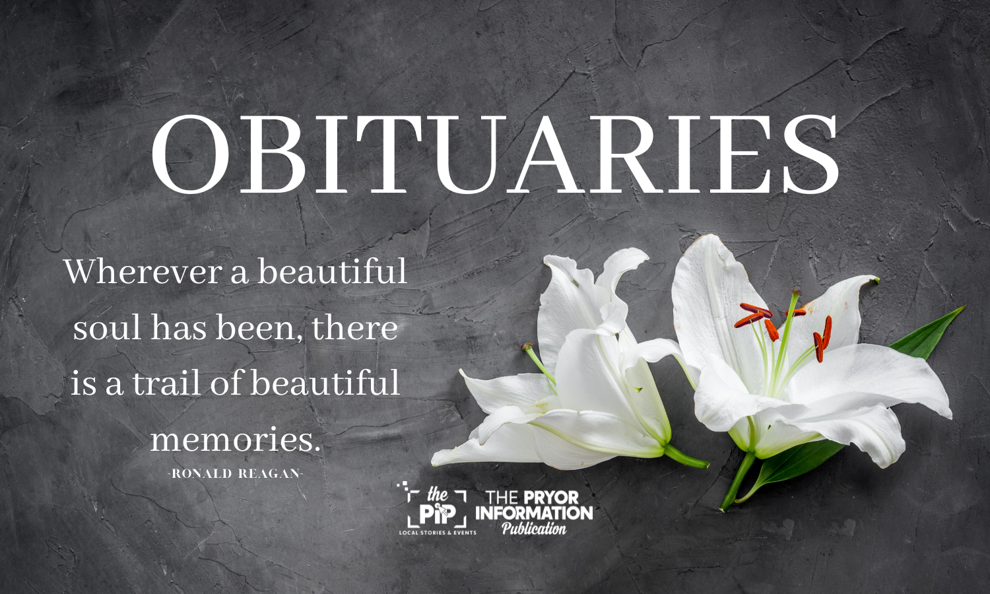 Pryor Neighbors: Obituaries of those we lost last week
Ronald James Haley
Updated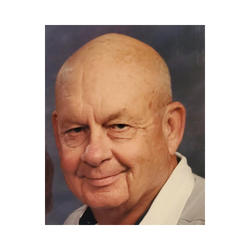 Ronald James Haley, 87, of Chouteau, passed away on Sunday, January 15, 2023 at his home. He was born on December 17, 1935 in Marble, Arkansas; the son of Fred and Cora (Templeton) Haley. Ronald faithfully served his country in the United States Army from 1958 until 1964.  He married Ruby Pilant on March 23, 1970, in Miami, Oklahoma and celebrated 45 years of marriage until her passing in 2015. He was a manager for Sears Roebuck & Co. for over 30 years. Ron had a passion for golf and was a golf pro at Mohawk Park in Tulsa for several years. Ronald was an avid reader and gardener. He also liked to work puzzles as well as draw and paint. He had a special love for his birddogs. Ronald leaves behind many memories for his family to cherish.
Memorial services are pending at this time. To leave his family a message, please visit his Tribute Wall at 
www.shipmansfuneralhome.com. 
Cremation arrangements are under the direction of Shipman's Funeral & Cremation Service.
Ronald is survived by his sister, Becky DeLano and husband Don of Claremont, California; the Pilant family who loved him dearly; and many other relatives and friends. He is preceded in death by his parents, Fred Haley and Cora Clark, wife, Ruby Haley, infant sister, Freda Haley, half-brothers, Wiley Clark and Dennis Clark. 
Sandra K. Chapman
Updated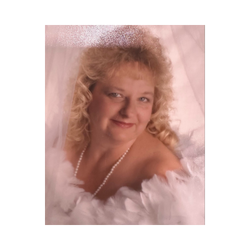 Sandra Kay (Fuller) Chapman, 72, of Pryor, Oklahoma, passed away on Monday January 16, 2023 in at her home. She was born on January 3, 1951, the daughter of John and Mary Fuller.
Sandra was raised on a farm in Fairbank, Iowa. She attended Catholic School through the 8th grade, graduating from the Wapsie Valley High School in Waterloo, Iowa. Sandra attended Community College at Hawkeye Technical College taking Auto Parts Management. She was a loving mother grandmother, great grandmother and caretaker. She enjoyed music and dance. Sandra enjoyed being outdoors, swimming, boating, camping and fishing. She also enjoyed cooking, sewing, crafts, art and crocheting. She enjoyed visiting with family and friends. Sandra loved her Lord and spent many hours reading her Bible. She will be so very missed by all who knew and loved her.
A Celebration of life will be held Saturday, January 21, 2023 at 1:30 p.m. in the Pryor Church of God on Hwy 20, with Reverend Danny Tugmon officiating. To leave a personal message to her family, please see her Tribute at www.shipmansfuneral.com
She is survived by her children, Kale and wife, Trish, Simerson of Waterloo, IA; Chantell Simerson Rector of Pryor, OK and Tanya Simerson Hamor and husband, Wayne of Pryor, OK; 15 grandchildren; 18 great grandchildren; many other family and friends. She is preceded in death by her parents, John and Mary Fuller; brothers, Richard Fuller, Ronald Fuller, Robert Fuller and Greg Fuller; sister, Cindy Close.
Michael "Mike" Ray Coatney
Updated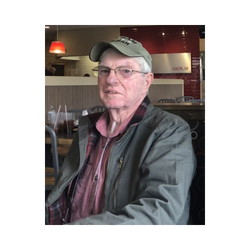 Michael "Mike" Ray Coatney, 75, passed from this life on Monday, January 17, 2023, at his home in Strang, OK.  Mike was born on December 18, 1947, in Miami, Ok, to Ray D. and Marie (Cowan) Coatney. He was a long-time resident of Mayes County, spending 50 years altogether living in both Pryor and Strang. He was a member of Utopia Baptist Church and enjoyed the time he was able to spend there. Mike was a proud Vietnam veteran serving in the U.S. Navy and Naval Reserve for five years (1967-1972). In 1970, he was introduced thru the mail to the love of his life…Wava Terhune.  They corresponded via mail for several months.  He came home on a short leave and was finally able to meet her in person. During that two weeks, he asked her to marry him.  Mike returned to duty where his ship, the USS Iwo Jima LPH-2, was sent back to sea.  Soon after, his ship was positioned and intercepted the Apollo 13 landing module. Mike was the only noncommissioned officer on the deck and assisted in landing the helicopter carrying the landing module.  The early landing of the Apollo 13 enabled him to return home and he and Wava were married on June 2,1970.  Mike was very proud to call himself a Vietnam Veteran. After starting a family, Mike began working at Pryor Police Department. He retired from there after 25 years with the rank of Assistant Chief.  Retirement didn't suit Mike at the time, so he returned to work for the City of Pryor as the Civil Defense/Code Enforcement Officer where he received his second retirement many years later.  Mike was a graduate of Northeastern State University where he received his bachelor's degree in Criminal Justice with minor in accounting. He was a lifetime member of the Mayes County Fraternal Order of Police Lodge #116. Some of his favorite activities included playing "cheating" dominoes at the Strang Community Center, finding treasures at his many thrift stores, visiting his favorite gun store (always in competition with his friend Dennis to be the first to get a certain gun), fishing with his son, harassing his friends and spending cherished time with his grandchildren. He leaves behind a wonderful legacy, many memories for his family to cherish and will be dearly missed by all who knew and loved him. 
Funeral services for Mike will be held at 2:00 p.m., Friday, January 20, 2023, at the Mayes County Event Center with Pastors Eric Troyer and Eddie Bob Matthews officiating. Burial will follow in the Graham Memorial Cemetery in Pryor with Raymond Greninger, Derek Melton, Larry Rice, David Reed, Dennis Nichols, Jason Wood, and Scott Jones serving as casket bearers. Honorary casket bearers include Wayne Brady, Don McClellan, Kelly Stoops, Bill Kolb, and Joe Garrett. A visitation will be held from 6:00 p.m. until 8:00 p.m., Thursday, January 19, 2023, at Shipman's Funeral Home. To leave his family a message, please visit his Guestbook at www.shipmansfuneralhome.com. Arrangements are under the direction of Shipman's Funeral & Cremation Service of Pryor. 
He is survived by his son, Steven Ray Coatney of Pryor; daughter, Lisa Michelle Humphrey and husband Trent of Adair; sister, Anne Dresia and husband Bert of Miami, Oklahoma; grandchildren, Miranda Nicole Coatney, Jackson Ray Kinion, and Harper AubrieMae Humphrey; and family friend and caregiver, Hannah Logan of Pryor. He is preceded in death by his parents, Ray and Marie Coatney; wife, Wava D. Coatney; and granddaughter, Shelby Darlene Coatney. 
Martha Irene Anderson
Updated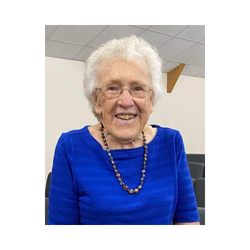 Martha Irene Anderson of Pensacola, OK passed away peacefully in her home surrounded by her family on January 19th, 2023.  She was 89 years old. Martha was diagnosed with Leukemia 23 years ago, but her unwavering faith in God always helped her keep a positive outlook and it never stopped her from enjoying life to its fullest. No matter how sick she was, she never complained and never lost her faith. In fact, in the last week of declining health, she overheard her doctor say he "hoped to go to heaven", and she raised her finger and pointed at him and said, "You don't have to hope…you can know". She was a witness to her last breath!
Martha grew up East of Pensacola, OK on a small farm next to Hudson Lake. She married Sam D. Anderson of Stillwell, OK in 1954at the age of 21. Together with their 4 kids, they ran Sam's Grocery and Tire in Pensacola, Ok. They retired at the age of 51 and have never looked back. Mom loved going on long camping/fishing trips with Sam to Colorado and caught hundreds of trout and rode thousands of miles on bikes and ATV's. She loved crappie fishing and spent many months each year fishing Hugo Lake, Piney Creek, and Bob Sandlin. Sam always said she could out-fish him.
Martha loved sewing, quilting, canning, baking, reading her Bible, and was an exceptional country cook. She was known for being able to cook up a big meal in the blink of an eye when company showed up unexpectedly. She loved quilting blankets for all her kids, grandkids, and extended family. Her grandkids favorite presents were always fresh baked bread and homemade jelly.  
Martha was truly a perfect example of how a Christian should be. She was loving, kind, generous, humble, and never had a negative word to say. She loved Sam, her kids, grandkids, family and friends with all her heart and always put her needs aside to do anything for them.  
Martha is survived by her husband of 68 years, Sam; two sons, Gary Anderson & wife Vicki of Vinita, OK, Dean Anderson of Wagoner; two daughters Brenda Jordan & husband Charles of Adair, Ok; Sherry Risman & husband Jim of Disney, OK; six grandkids, Rainy, Shaney, Cambree, Matt, Sarah, & Tyler; eight great grandkids, Hunter, Carson, Harrison, Fallon, Whitley, Emily, Layla, & Landon; two sisters, Ina Rogers, Marie Karr & husband Bob; two step brothers, Tommy Butler & wife Que, Paul Butler & wife Mary; sister-n-law Kathy Butler; Aunt Lucille Ervin and many other relatives.  
Martha is preceded in death by her parents, Virgil & Mamie Wheeler; step mother Catherine Butler Wheeler; step-sister Mary Catherine Butler; brother, Floyd Wheeler; step-brother John Butler; grandkids, Chris Weems, Piper Anderson as well as many more loving aunts, uncles, cousins and relatives.
Visitation: Sunday, 1/22 from 2-4 at Shipman's Funeral & Cremation Service of Pryor.  
Service: 1/23 11am at Utopia Baptist church, Big Cabin, OK
Laid to rest: Ghormley Cemetery
Eddie G. Hoffman
Updated
Eddie Hoffman, 75, of Pryor, was born on July 16, 1946 in Orofino, Idaho to Earnest Gussy Hoffman and Thelma Melvina Seger. Eddie served in the United States Navy serving in Vietnam and retired after 20 years of service.
Eddie married Sandra Cooper on July 1, 1994 in Wichita, Kansas and they moved to Pryor in 2000. Eddie was a truck driver for many years after his military career. He enjoyed camping, fishing, boating and he loved working on computers. He also loved being ornery, especially with his kids and grandkids.
He is survived by three children, Elizabeth Smith of New Mexico, David Busch of Pryor and Paul Busch of Tulsa and six grandkids, Zach, Sidney and Dakota Smith and Troy, Dallas and Kansas Busch.
He was preceded in death by his parents; his wife and two brothers.
It was Eddie's wishes to be cremated and no services are planned. Cremation arrangements are under the care and direction of Stephens-Key Funeral and Cremation Care in Pryor.