Urban Sketching means sketching on location.  But you don't have to visit a large city in the United States or international sites like the Eiffel Tower or London Bridge.  There are a lot of opportunities in Mayes County and even around your own house.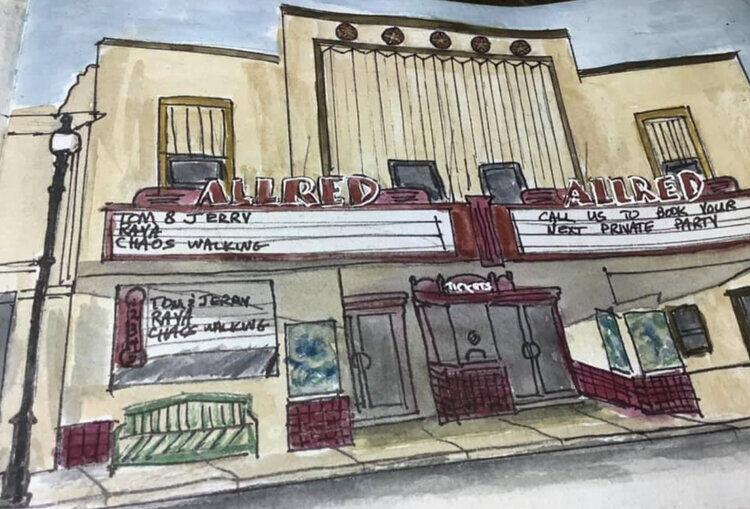 A local group of artists and friends are doing just that.  The Mayes County Sketchers, a group within the Pryor Area Arts and Humanities Council,  get together each month to record and draw a part of their lives.  Whether they are sketching a local iconic building or an aspect of their everyday life, it can be an outlet for their creativity and a way to have fun.  They share their artistic efforts on Facebook.  
The group was started by Erna Gibbs who has been sketching her world for years.  She wanted to share the experience with her local community.  After an organizational meeting, the group has met to sketch the Boom-a-rang Diner, the Allred Theater, the Mayes County Cultural Arts Center, and the Thomas J Harrison Library.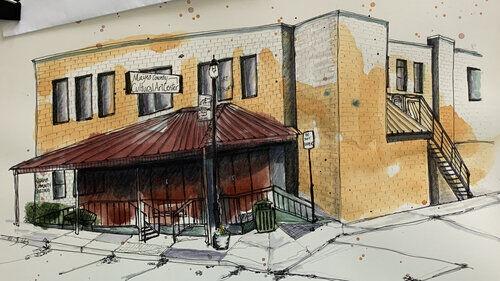 Additionally, there are occasional challenges to capture everyday life.  The list includes
1.     Something you see from your window every day
2.    Something you used the most during the pandemic
3.    The building where you live
4.    A bookshelf or books in your home
Other challenges observed things like National Soup Month of the Winter Season.  
The next event affords the group a unique opportunity with a special visit to the Coo-Y-Yah Country Museum on Highway 69 in Pryor.  Housed in the former Katy Railroad Depot and open to the public limited hours, the building houses many historical artifacts and exhibits.  Participants in this event will meet Saturday, August 21, 9 AM-Noon to put pen or pencil to paper.  
For more information contact the Art Center on Monday, Wednesday, or Friday, 11-3 at 918-864-7224 or Erna Gibbs at Gibbs Plumbing 918-825-4871.