PRYOR, Oklahoma - Educationally Speaking...In Mexico, slavery was outlawed around 1830. In Oklahoma ("Indian Territory"), slavery was just getting started in the 1830's. The Native American tribes included black slaves and a smaller number of black "freedmen". Blacks who had run away from their white owners were received into Creek, Seminole, and Cherokee settlements as free people. Most tribes bought black slaves for farm labor. By the time of the civil war in 1861, about 8,000 of the people in Oklahoma were black, 14 percent of the population. The majority of these were slaves owned by the Indian tribes.
When slavery was abolished after the Civil War in 1865, Oklahoma blacks had somewhat limited civil rights, which were limited even more after Oklahoma became a state in 1907.
The Oklahoma Constitution required separate schools for white and colored children. Oklahoma Senate Bill 1, the first bill in the new State of Oklahoma, required railroads to enforce separate cars and waiting rooms for blacks and non-blacks.
In 1908, Oklahoma banned marriage between a "person of African descent" and "any person not of African descent". The law remained in effect until 1967, when this law and similar laws in 16 southern states were declared unconstitutional by the U.S. Supreme Court.
Literacy tests required for blacks to vote were enacted in 1910, and were not entirely eliminated until 1939. A number of other "Jim Crow" laws that enforced racial segregation were passed during Oklahoma's first 50 years of statehood.
In short, the State of Oklahoma was not a friendly state for blacks.
The first Oklahoma Territorial Legislature allowed counties the option of racially mixed or segregated schools. Most counties opted for segregated schools. There were no race restrictions at new colleges such as the University of Oklahoma or Oklahoma A&M (now Oklahoma State University), both founded in 1890.
In 1896, the U.S. Supreme Court held that "separate but equal" education for blacks and whites was constitutional. The following year, the Oklahoma Territorial Legislature banned racial mixing in schools, and established Langston University was established for blacks.
Langston University was located at the "all-black" town of Langston, Oklahoma. Blacks were no longer admitted to the University of Oklahoma or Oklahoma A&M.
When Oklahoma became a state in 1907, racial segregation of schools was incorporated into the state constitution, reaffirming the practice throughout the new state.
During the first half of the 1900s, the civil rights movement worked largely peacefully to remove racial discrimination in laws and practices. Progress was slow but significant. The National Association for the Advancement of Colored People (NAACP) was founded in 1909, and became a large powerful force for black civil rights.
World War II resulted in increasing recognition of blacks as having normal competence, intelligence, and reliability, rather than being a race inferior to whites.
As a result, more and more civil rights were accorded blacks, and more and more blacks demanded equal treatment under the law. From 1940 to 1946, the membership of the NAACP grew from 50,000 to 450,000.
In the 1940s and 1950s, the NAACP worked to end school segregation. In the fall of 1945, representatives of the NAACP approached Lemuel Sipuel for a meeting at his family's home in Chickasha, Oklahoma.
The NAACP needed a black plaintiff to bring a lawsuit against segregation in Oklahoma state universities. They were looking for someone to apply to the University of Oklahoma, which would automatically reject them on the basis of race, as required by state law.
Lemuel was a good student with impressive scholastic records. He had spent three years in the service during World War II. His mother was politically active and his father was a pastor. He was a prime candidate.
But after three years in the war, Lemuel was anxious to start law school. The lawsuit would take two to three years to resolve. He declined the offer and went on to get his law degree at Howard University School of Law.
However, there was an alternative. She was sitting in the room during Lemuel's meeting with the NAACP representatives. Lemuel's sister Lois, three years younger, had been valedictorian of her high school class and an honor student at Langston University, and she had the full support of her family.
It must not have been an easy decision. Lois had married Warren Fisher only a year earlier. Lloyd Gaines, the last NAACP plaintiff in a similar case in Missouri, had disappeared and was never seen again. This case would undoubtedly delay her education for more than a year, likely two or three.
But on January 15, 1946, Ada Lois Sipuel Fisher walked into the University of Oklahoma and applied to law school. The result was predetermined, and no surprise.
Even though she met every other qualification, the University rejected her application because she was black. The denial of black students was ordered by the Board of Regents in accordance with state law.
But the NAACP had their legal plaintiff, and after a three-year legal battle that reached the U.S. Supreme Court twice, Lois Fisher enrolled in OU Law School on June 18, 1949. Her first Supreme Court win had enabled six other black students to apply at OU grad school, including George McLaurin, who was admitted to OU's College of Education doctoral program in October 1948. He was the university's first black student.
The lead attorney for the NAACP in the Lois Fisher's case was Thurgood Marshall, who later argued the case "Brown v. Board of Education" before the U.S. Supreme Court in 1954. In this case, the court overturned the "separate but equal" policy established in 1896, making laws unconstitutional that require school segregation. Thurgood Marshall went on to become a U.S. Supreme Court Justice in 1967.
In 1992, Lois Fisher was appointed to the Board of Regents of the University of Oklahoma. She said it "completes a forty-five-year cycle."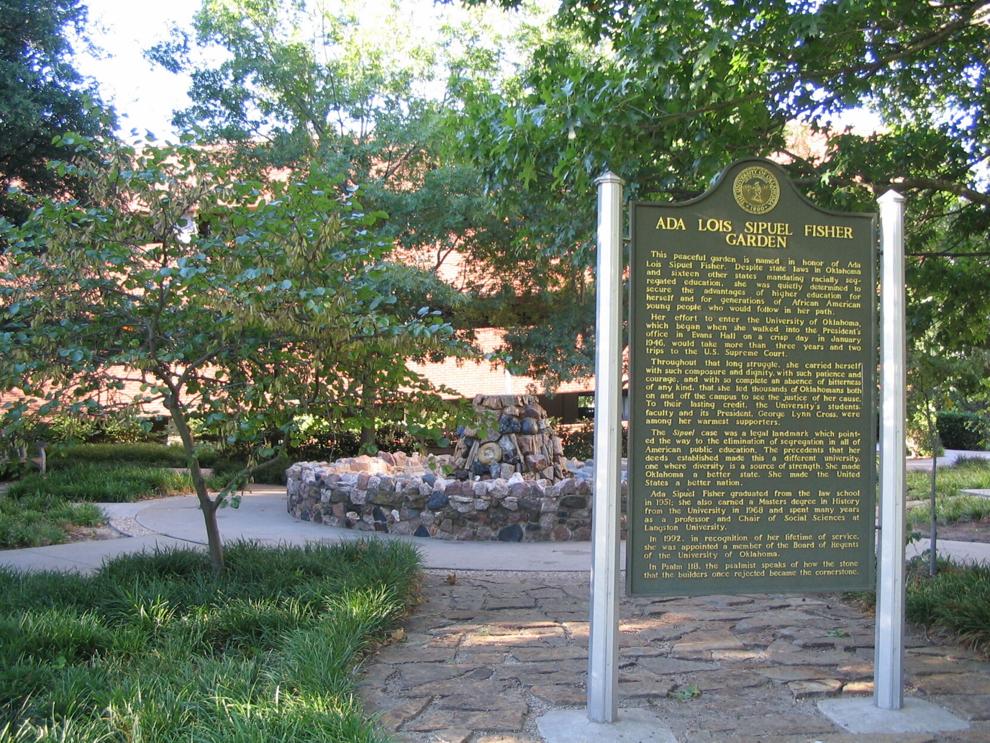 Ada Lois Sipuel Fisher died in 1995. There is now a garden in her honor on the University of Oklahoma main campus.
Nancy Randolph Davis was a friend of Ada Lois Sipuel at Langston University. In 1949, Nancy Davis enrolled in graduate school at Oklahoma A&M.
A 2013 Stillwater News Press article reported, "Davis admits she might have been a little naïve because a friend from Langston, Ada Lois Sipuel, had been accepted to the University of Oklahoma Law School so she felt she should be admitted to the state college of her choice which was Oklahoma A&M."
Nancy Davis was required to sit in the hall, alone in the back of the room, or in a side office of a classroom during her first semester. However, she got along well with the professors and students, and proved to be an excellent student. She received her master's degree in home economics in 1952, and taught school for more than 40 years.
While Nancy Randolph Davis was attending Oklahoma A&M, two other A&M students were Dr. Larry Burdick and Don Webster (my dad).
Around 25 years later, the first black students attended Pryor High School. (At least I believe they were the first.) Dr. Burdick was Superintendent of Schools and Don Webster was Assistant Superintendent at the time.
One of the first black students at PHS was Samson Doolin. He was popular and well-liked, and, among other things, he was active in band and received the John Philip Sousa award in 1976.
Samson Doolin attended the University of Oklahoma and received a degree in Music Education. His wife Sherylon has a master's degree from OU. They are two of many thousands of black people to graduate from OU since Ada Lois Sipuel Fisher applied to OU law school in 1946.
Samson Doolin is now the senior pastor at FCF World Outreach, a large church in Owens Mills, Maryland.