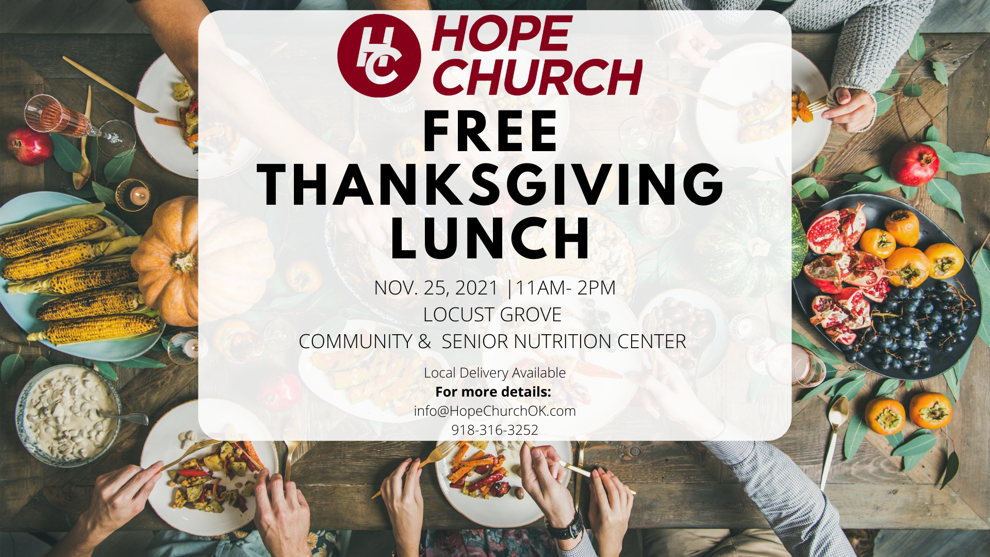 LOCUST GROVE, Oklahoma - Hope Church is partnering with one of our own families that has been providing this wonderful service to the community for the past 7 years. Together we will celebrate 8 years of feeding, loving, & bringing HOPE to our neighbors in the local community. No strings attached! Free Thanksgiving lunch will be served from 11AM – 2PM, Thursday Nov. 25 at the Locust Grove Senior Nutrition Center (formerly Community Center).
"During this time of year, we express our gratitude for the blessings we have received as an individual, family, community, and nation. The James and Harris family started this tradition 7 years ago, as a way to give back to the community. As a church we could not think of a better way to give thanks this holiday. Providing hope to the community is the core mission of Hope Church." – Lead Pastor Jason Jackson
Hope Church is a non-denominational church located between Locust Grove & Chouteau. HOPE currently meets at 68 Spring Creek Dr, Locust Grove on Sundays at 6PM & Wednesdays at 7PM "We believe the one thing EVERYONE needs is hope....because HOPE changes everything," Pastor Jason Jackson.
For more information on this event or Hope Church follow us on FB @HopeChurchTodayOK or online at www.HopeChurchOK.com