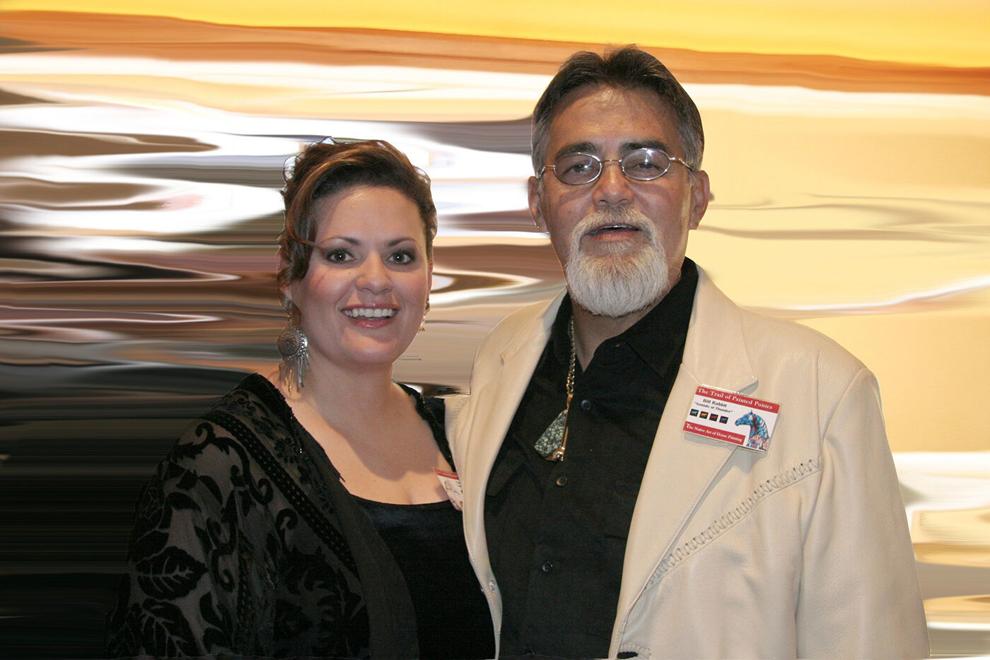 PRYOR, Oklahoma - When Traci Rabbit, Cherokee artist from Pryor, Oklahoma, was named a Cherokee National Treasure she was following in the footsteps of her late father, legendary, internationally known artist Bill Rabbit who had previously been awarded the honor. Though the announcement was made in September of 2020 Traci says, "I'll honestly say that it still hasn't sunk in." 
Rabbit, whose work has been chosen for the second consecutive year for the U.S. Department of Agriculture's American Indian/Alaska Native Heritage Month poster, believes her story begins with her father's military service.
Bill Rabbit was a combat veteran of the Vietnam War. "Growing up I knew Dad was a Vietnam veteran. I still have the Bible he carried in Vietnam and I have every letter he ever wrote from Vietnam in sequential order. He was a very light sleeper. Before I knew the reason for it I knew we had to be careful waking him up from a nap, because he would come up swinging. We'd wake him up with a broom. He couldn't stand the 4th of July. He was patriotic but he didn't like the noises. He always made a big deal out of the 4th for us kids, though. He'd get us fireworks, but he never participated. The only time he would really talk about Vietnam was with another veteran. I asked him once if he still had nightmares about the war. He said, "Not really. I never hurt the Vietnamese people. I never mistreated them. I never did anything that I feel guilty about."
The two of them watched the movie Platoon together and her dad told her how close the film came to his own experience. "You know, Platoon was Dad's Vietnam, almost verbatim. He said the only thing Oliver Stone got wrong was they didn't wear ponchos in the rain. They weren't allowed to because they made so much noise. They just had to sit in the rain." Bill later learned that he and Stone had served in the same unit. "You know, Dad only required about four hours of sleep a night. That affected him the rest of his life. There were certain little quirks with my dad that we just knew that I know now are signs of PTSD." He once told her, speaking of the Combat Infantryman's Badge that he had been awarded, that he was "more proud of that than anything." He had a tattoo of it on his arm.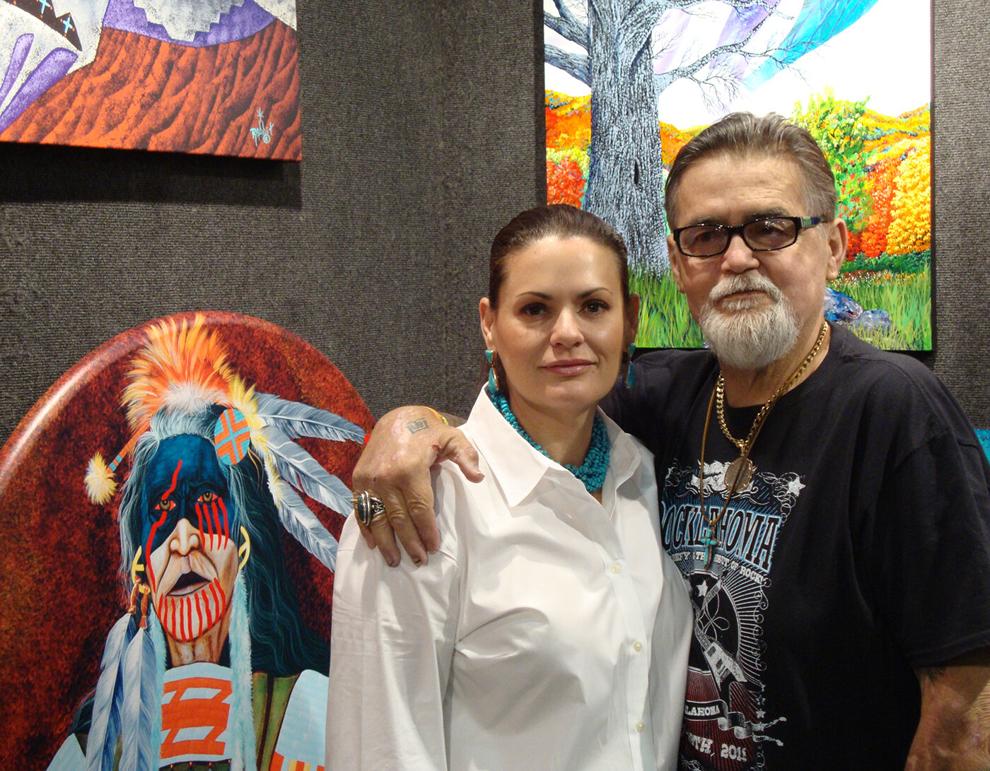 "Dad had gotten a full-ride scholarship to the Institute of American Indian Arts at Santa Fe and he turned it down to volunteer for Vietnam. Not once, but twice. Because he felt the call of duty, the call from his country, and I think a lot of Native Americans are warriors at heart and my dad was just one of them."
She grew up in Cherokee Heights, a housing area southeast of Pryor under the administration of the Cherokee Nation, eventually living in five different houses there. "I was a tomboy. Mom said I was always playing with trucks. I was always outside playing in the dirt. It was a great childhood for me, you know, because growing up there, my grandma and grandpa, all my aunts and uncles, we all lived out there at one time. We all lived in a circle.  It was great, I really had the best childhood. I would not have traded growing up at Cherokee Heights for anything. If you've seen Reservation Dogs, that was my childhood."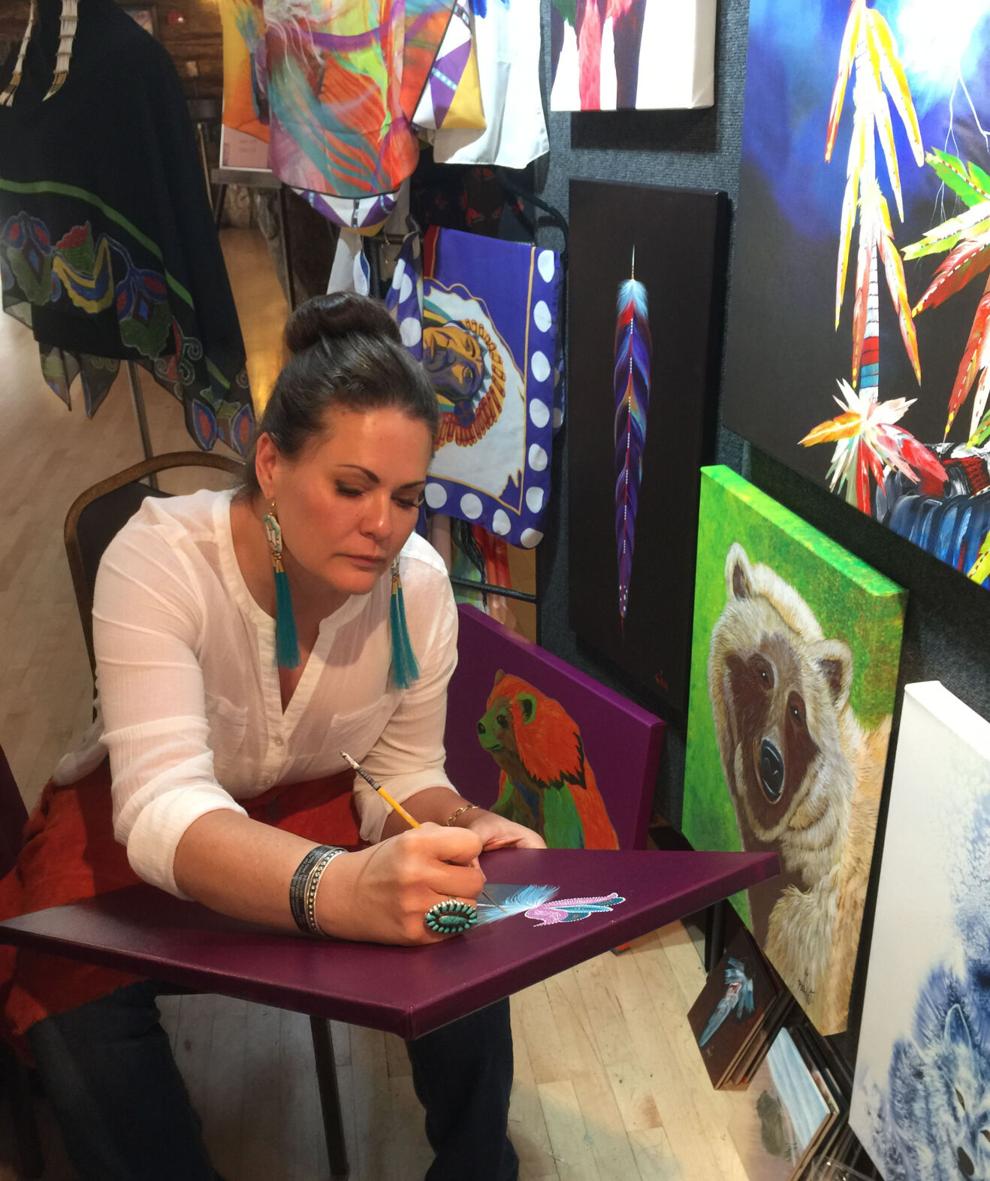 Her dad was half-Cherokee and her mom, Karen, is non-Native. Her siblings are Kim and Billy and she considers her first cousin, Stephen Proctor, to also be a brother. "We're just two months apart. In my memories he was just always at our house. He is my brother, absolutely, a thousand percent.
"Growing up, my parents were the coolest parents ever. Very strict on me, being the oldest child, but they were always very relevant to whatever was going on in our lives so I never went through that stage as a child where I didn't want to hang out with my parents. My dad was my best friend, he really was. I was his shadow. I have so many stories in my memory base growing up with him. 
"He did part-time security work for the Cherokee Nation at Cherokee Heights. He had several jobs - Phillips 66, Midwest Carbide. He taught himself how to weld and then how to make jewelry. He was always one of those guys who would just jump right in and do it. He was a natural entrepreneur. His making of jewelry led to his painting and then his style changed so much over the years he was literally like ten artists in one body. He just wasn't afraid to try anything or to do anything. He just wasn't. What a great mentor I had. Not just in painting but in life.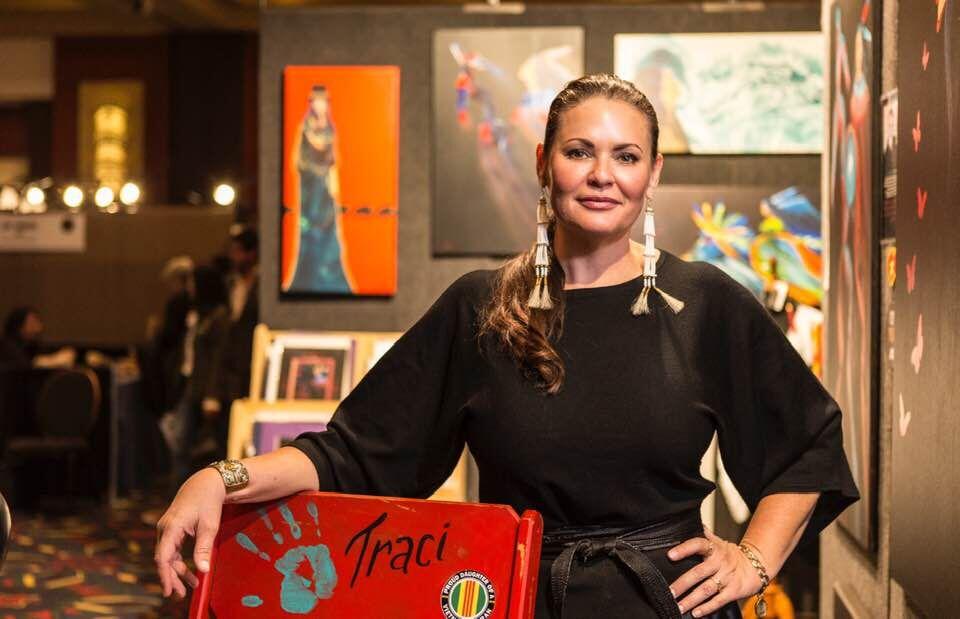 "I was going to art shows at a very early age. I remember, when I was in junior high, flying with my dad to Atlanta, Georgia, to a gallery opening. It was very memorable, being picked up by a limo, because to me he was just Dad. The first time I realized how well-known my father was I was at a poster signing with him in Santa Fe and there were literally hundreds of people standing in line to meet him. It just blew my mind. Going to all those shows at a young age also means I was exposed to a plethora of artists who kind of became extended family. So, for me it was having all these neat aunts and uncles. If I was at a show and I wanted to I could go back and ask them all these questions. I just sort of grew up with them.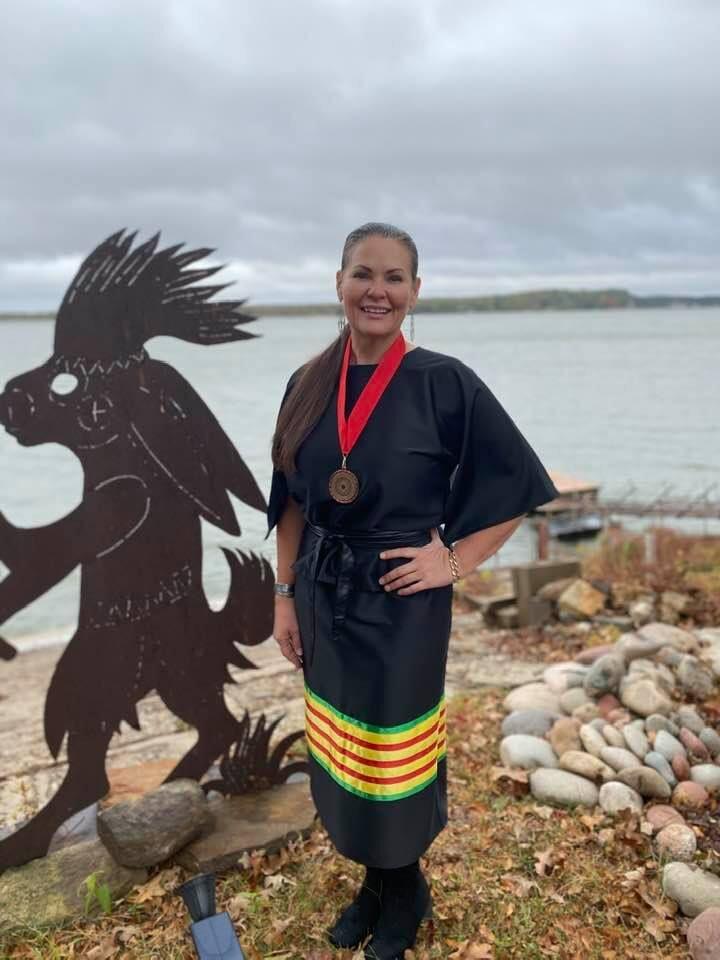 "Growing up I had no thought that I might do my art as a living. My interest has always been in tribal politics. I had always thought I might work for Cherokee Nation or the Bureau of Indian Affairs." After graduating from high school, the youngest in her class, she went to college, graduating with a Bachelor's Degree in Business Administration with Minors in Computers and Tax Accounting. 
"I wasn't thinking about art as a living because in my little mind my dad was up here (raising her hand above her head). I had seen him accomplish a lot of things by the time I was in college, selling my art on the side, he would take it and sell it, but not ever thinking that I could be in that arena. It was the Shadow Syndrome. I watched him paint my whole life, but not thinking that I could compete in that arena. So, in my mind I needed to do something different. Any child that has a parent that is very proficient or well-known in whatever they do, when you have that closeness as a parent, you can never be good enough. I had that syndrome for the longest time." 
After graduating though she immediately returned to her dad's studio. She would never have any other job except at the studio. By then her dad had been designated a Master Artist by the Five Civilized Tribes Museum. "We would paint together in the studio but in my early work I wanted to paint anything but like him. Because I wanted people to recognize my stuff. Dana Tiger was an influence because I loved that she painted women. Also, my mother's influence was great at this time, being such a strong woman, because there's no doubt it was my mom, a thousand percent, that encouraged and pushed my dad to be what he was. She could see the talent within him. It was Mom finally telling him that it was time to sink or swim that led him to decide to do it full time. It was really my mom that was the driving force behind my dad."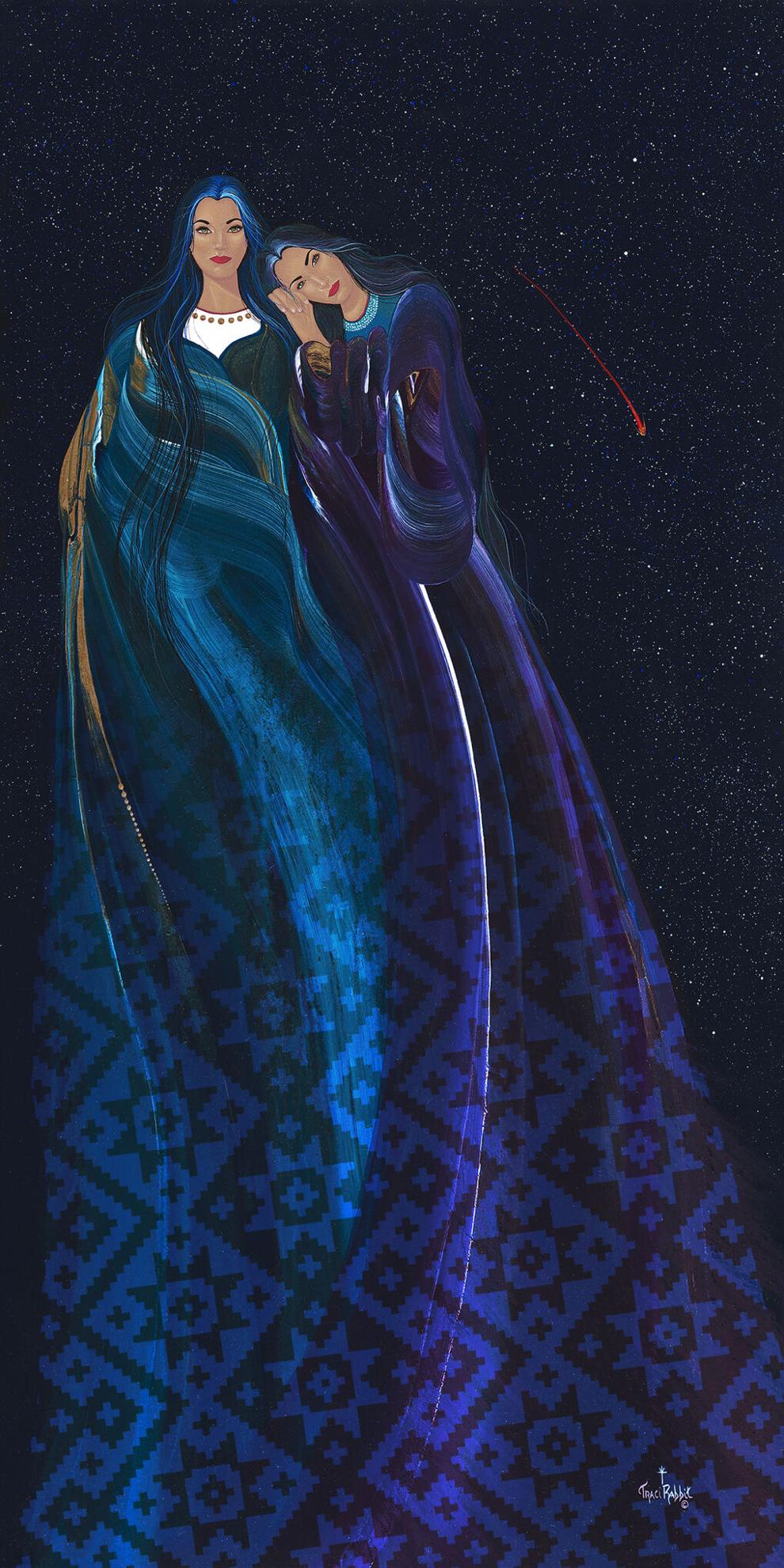 Traci began creating paintings on canvas using acrylics. "In all paint the pigment is the same whether it be acrylic or oil. It's the things that bind them together that makes them different. I was trained by my dad in acrylics, in what he knew. Some people say oil never really dries. I don't know a lot about oil. You know, you adjust to acrylics. Acrylics won't adjust to you.
"Oil is different. It takes time to dry, takes time to blend so you've got time to kind of look at it, sit in a chair, and you can come back next week and still work with it. Acrylics will dry in, I don't know, two minutes. (Snaps fingers) As a matter of fact I use a hair dryer to make it dry even faster. So, yes, I work in acrylics. Dad worked in acrylics. He dabbled some in oils in his very early days. But once he was introduced to acrylics, I don't remember how, he just loved acrylics after that."  
Bill Rabbit was self-taught and Traci never took an art class. "Dad and I would just play around with our work in the studio. The only formal training I ever had was in Pryor Schools with Mr. Dryden and Ms. Lynn, and that was it." Ron Dryden, retired art educator, says "Traci is a woman of many gifts. She is an accomplished and distinguished artist, a visionary representative of her tribe, and a phenomenal businessperson. She also possesses the gift of being a friend. I know few people who can equal her loyalty and compassion. She is an exemplary human being."
Traci says, "What's fun about being self-taught is you never had anyone tell you that you couldn't do something. So I had all these tools in a tool chest that Dad had taught me in techniques but I was always afraid to use those tools because I did not want people thinking I was copying his style. But life has come full circle because now I use his techniques and his style because he gave me all those tools in my tool chest. With every piece I learn something new. I think that comes from being self-taught. If I want to learn a technique then I have to experiment with that, learning how to do that, because I don't have anybody to teach me. From my dad I got the sense that if you want to learn something you just jump right in and do it.
"I have that same drive that my dad had. We were literally like two peas in a pod. So I always had that drive. I always knew that I was made for something. I remember him telling me one time, I can open the doors for you, Sis, but you've got to walk in them. So if you want to be an artist you've got to do it on your own. 
"I did calendars with Dad on a national level, six of the images were mine, six were his. We worked with a company that would sell our images all over the United States and we would get paid 7%. One day I told Dad, you know what, if they can do it why can't we? That was that business degree kicking in. It took me into many different avenues. I'm equal left brain and right brain. That led to the coffee mugs, textiles, reproductions, and everything else. We ship out all over the United States. I deal with every national park. We shipped out probably over 30,000 mugs with our artwork and our names on them last year from right here in Pryor, Oklahoma." One of her scarves was mentioned in an issue of New Yorker magazine.
"We make great use now of the Internet. All those years of groundwork are paying off now and I know my dad is so proud of me and the things that I have done. Never in my mind would I have fathomed that we would have expanded from our original works to everything we do now. I feel his presence every day, but especially when I'm painting. I have no doubt he's always with me."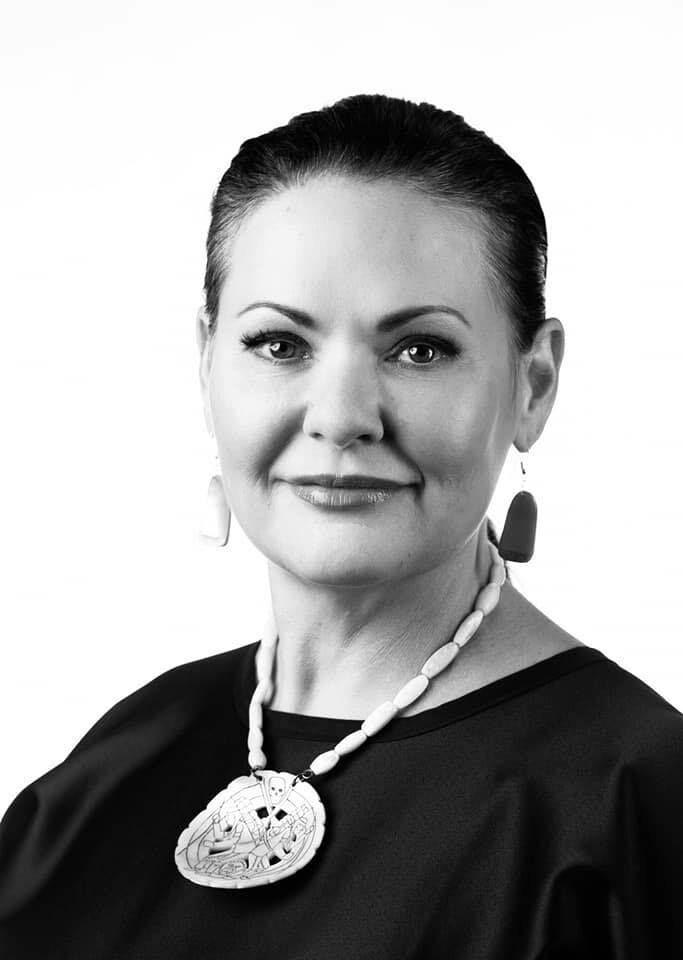 When asked about influences on her work she was quick to reply, "Besides my dad, obviously, I would say a big influence on my work was Dana Tiger. I remember seeing her at a show, she's a good friend of mine now, but I remember thinking she was the most beautiful Native woman I had ever seen; she was successful, I can even tell you she had snakeskin cowboy boots on. I loved Dana; she was a big influence. I would also say Erte. I love Erte's work. I always liked his, Japanese, long-figure style. Bill Rabbit, Dana Tiger, and Erte, those would be the main ones. And anything Japanese. I've taken elements of what my dad taught me and turned it into what I do." 
A central theme in what she does is "Native American women, for sure, just like Dana." A statement from the Museum of Native American History says of Traci's work, "Her art is a perfect representation of the juxtaposition of the Native American woman in society. The Native American woman is strong and bold, with a fierce dignity and energy. And yet, at the same time, the Native American woman is gentle, yielding, kind, and passionate. All of her paintings resonate with these themes in subtle ways that seem to jump off the canvas." 
She's also big on using color. "Dad loved color. I love color, too. I think color makes us all happy." 
She has spent most of her life on the road. She has participated in the Colorado Indian Market the past 34 years. She served on the Board of Directors for SWAIA for six years in Santa Fe, driving from Oklahoma to Santa Fe once a month. The Board oversees putting on the Native American Art Market in Santa Fe. They don't usually ask out of state people to serve on that board and she appears to be the first Cherokee to ever serve on it.   
She's been an artist-in-residence at Yellowstone National Park where she was invited to show her work and to paint in her booth. This year she's one of four artists invited to return for Yellowstone's big celebration of its 150th anniversary as the first national park. Her favorite travel memory, "the most fantastic thing I think that I experienced was the first time I saw the Teton Mountains in Jackson Hole. They were just majestic."  
Her dad was 65 years old at the time of his death. The day after he was buried in 2012 her mother made her return to work at the studio. Traci closed her eyes for a moment. When she opened them they were moist. "Thank goodness for a strong mother because, otherwise, I might never have walked through that door again. Because I was in such grief. You know, I was with him when he passed away, right on his chest. I still wear his Vietnam bracelet every day." On the other wrist she wears a gold bracelet her dad gave her that now has one gold pendant on it, an imprint of her dad's actual fingerprint from his right index finger. The piece was made by local jewelry artist, Kerry Pace. "The bracelet has no clasp; it never comes off my wrist until the day I die and then somebody will cut it off.   
"I would say that being the daughter of a Vietnam veteran prepared me for life very well. Dad said Vietnam taught him that life's moments are precious. I have the utmost respect and a special place in my heart for every Vietnam veteran and will until the day I die. Vietnam veterans are in a class of their own. You know, Dad passed away from Agent Orange. He battled that for thirty-five years. A lot of people didn't know that. It wasn't something he went around talking about."
In one of his last interviews, Bill Rabbit said, "Life has been kind to me. I'm thankful I've had the opportunity to see the things I've seen and do the things I've done. But if I died tomorrow I would feel so blessed and I hope God puts me in charge of painting rainbows."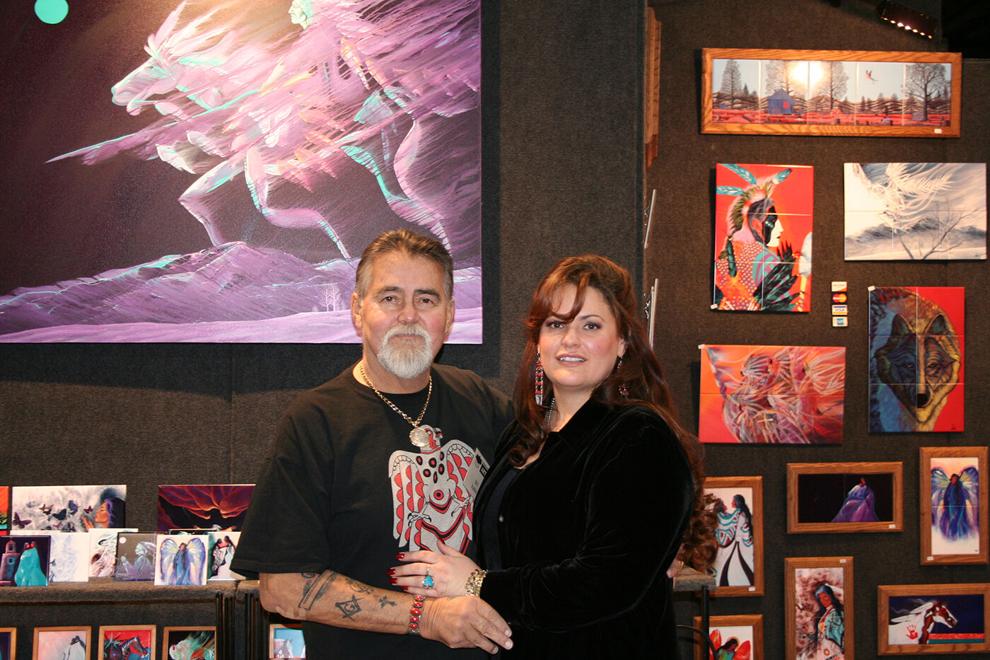 Traci says, "When you're following in a parent's footsteps, in the same profession, it can become daunting, it can become an honor, you're carrying on a legacy and sometimes you don't fully take into account how heavy that legacy can be. Because when a parent leaves big footprints you realize you can never fill those footprints. But what you come to realize is that you walk beside their footprints on your own, carrying their legacy with you."  
Rabbit Studios are located on S. Taylor Street in Pryor, Oklahoma, but the city has also put up signs designating it as Bill Rabbit Boulevard.