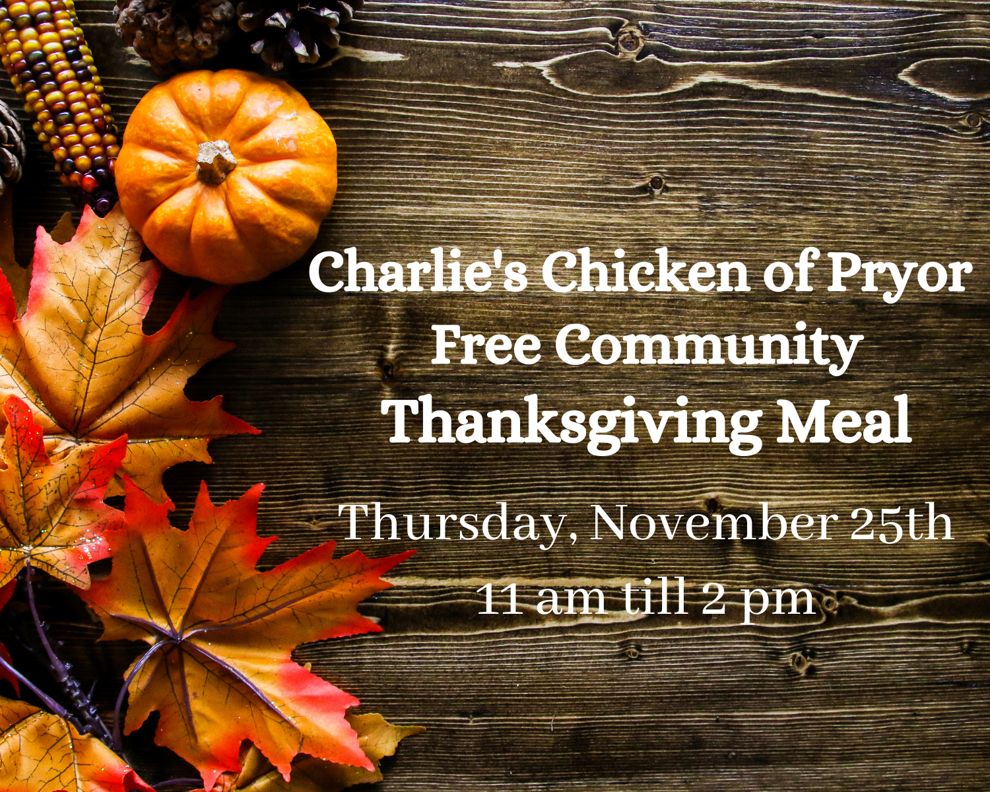 PRYOR, Oklahoma - "Gratitude unlocks the fullness of life. It turns what we have into enough, and more. It turns denial into acceptance, chaos to order, confusion to clarity. It can turn a meal into a feast, a house into a home, a stranger into a friend. Gratitude makes sense of our past, brings peace for today, and creates a vision for tomorrow." ~Melody Beattie~
Robert and Stephanie Brown understand denial, confusion, and chaos. With the death of their oldest son, Dex, their lives changed forever. According to Robert, this season in their lives could have changed their lives for the worst. However, thanks to the kindness and love from both strangers and friends, this season was one of positive growth. 
The positive growth came from the sincere kindness Dex showed for the community of Pryor. In reflecting on Dex's life and his love of community, Robert and Stephanie decided to host a Community Thanksgiving Dinner at their restaurant, Charlie's Chicken. 
For the third year, Charlie's Chicken will open their doors on Thanksgiving Day and offer a FREE meal to anyone who walks through the door. They will serve this free meal from 11 am to 2 pm. Robert told us the most they have fed in the last two years is around 150 people. He went on to say he would love to see that number increase to 300 to 400 people. However, the Browns and their team at Charlie's are just Thankful they can give back, even if they only feed one person needing a Thanksgiving Meal. 
We asked managers Traci Swafford and Shane Carey how hard it was to find the staffing to put this together. They both told us that they do not schedule anyone to work. They tell everyone that it is entirely voluntary. Traci said, "I put a volunteer schedule up, and it took no time to fill it up. " Besides the Charlie's Chicken staff, there is a host of community involvement. Friends and acquaintances of the Browns come to serve as well. Whether washing the dishes, taking out the trash, or greeting those that come at the door, these volunteers are there to spread a little kindness. The meal even comes with homemade desserts donated by none other than Nettie Ann's bakery in Chouteau. 
Thanksgiving is a day to give thanks for the harvest of the preceding year. While talking to Robert, he repeatedly said how blessed they are and that this was their way to say Thanks. So if you know someone that has no place to go for Thanksgiving, or maybe cooking is not your thing, then let the folks at Charlie's Chicken share their blessings with you this Thanksgiving.